Love her or hate her, the wife of the late former President Robert Mugabe has played a pivotal role in the processes of government in Zimbabwe for many years. Now, with her husband dead, many are wondering what's to become of the woman whose political ambitions are widely believed to have directly led to her late husband's removal from power after 37 years.
According to the Singapore-based newspaper The Straits, quoting Obert Mpofu, secretary for administration of the ruling party, Zanu-PF, "President Emmerson Mnangagwa has assured the family that they will keep their wealth." The Mugabe family is widely known to be one of the wealthiest families in the country, owning a large portfolio of properties, a dairy farm, a private school and a game reserve.
In a strange turn over the last few days, however, it was publicised that Mugabe's mansion – known as the Blue Roof, after its towering blue pagoda-style roof structure – and another mansion in which his daughter Bona resides,  are registered in the name of the ZANU-PF party. Blue Roof is situated in the elite suburb of Borrowdale in the capital, Harare. IOL reported that the newphew of Robert Mugabe, Leo Mugabe, confirmed that the former president did not own the house, and said it was in fact owned and registered to a company linked to Zanu-PF. "It leaves (former) president Mugabe without a house in Harare," he said
https://twitter.com/nesbert_kamo/status/1172005487732318208
The Standard, a privately-owned Sunday newspaper in Zimbabwe, reported on Sunday that the government had used the Blue Roof as leverage to force the family to concede to their demands of having Mugabe buried at the National Heroes Acre in Harare.
The Straits also quoted Mpofu as saying, "The title deeds will soon be transferred into the family's name."
Whatever happens, Grace Mugabe is known to be a fighter who pursues what she wants relentlessly. She rose from being one of President Mugabe's secretaries to the post of First Lady. When Mugabe's first wife Sally was ailing with kidney failure, Mugabe began a relationship with Grace, 41 years his junior, and they had a daughter and two sons. Following Sally's death in 1992, Mugabe married Grace in 1996 in a lavish ceremony at his birthplace, Zvimba, outside the capital.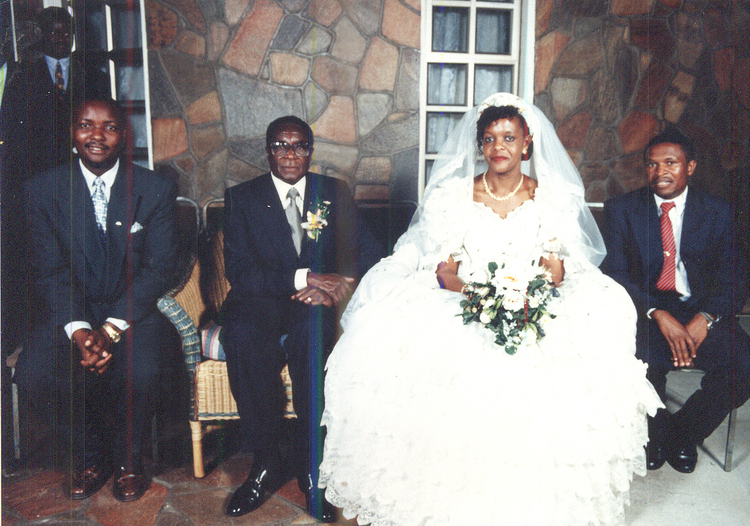 As Zimbabwe's first lady, Grace became infamous for her lavish shopping sprees across Europe and Asia, and reportedly has a particular taste for Ferragamo shoes. Once quizzed by a reporter about the footwear, she famously replied, "I have very narrow feet, so I can only wear Ferragamos."
Grace Mugabe is also known to have built huge residences, and staking claim to farms in the Mazowe area, outside Harare, as part of Mugabe's seizure of once white-owned properties. Grace also featured in a series of scandals and lawsuits, including one in which she sued a diamond dealer she said didn't deliver a 100-carat diamond she claimed to have paid for. Here in South Africa she was charged with assaulting a young woman who had been in her sons' hotel suite in Johannesburg.
According to The Express Website, 'Mugabe's net worth is said to be £16 million, according to a 2001 US diplomatic cable, later released by the whistle-blowing organisation WikiLeaks, Mugabe has about $1.75 billion-worth of assets, mostly invested outside Zimbabwe.
https://www.instagram.com/p/BnjzoORBw89/
In 2013, the former president purchased a $5.2 million (£4.2 million) mansion in Hong Kong.'